Any e-Commerce business can stand out from the crowd by creating the right content. You don't need to have a marketing budget to match retail giants like Amazon. By incorporating content marketing into your marketing strategy, you can set yourself apart and boost your sales.
It doesn't matter what is the size of your business or what kind of a brand you are. Powerful content will help you find the right customers. With the right tools and process, anyone can do this to great effect.
What's the right approach to content marketing for your e-Commerce brand? This article brings you some of the best e-Commerce content marketing examples from which you can draw inspiration for your brand.
1. REI
REI is an outdoor and lifestyle brand that is not shy about content marketing. Their content is laser-focused on their niche, which has helped build an enthusiastic community around the brand. They have numerous articles on outdoor activities, from bicycling to snowboarding.
REI replicates their content-first approach across their social media platforms, where they further engage with outdoors enthusiasts.
Instead of bombarding their potential customers with hard sells, they first bring them value and build trust, ultimately leading to conversions.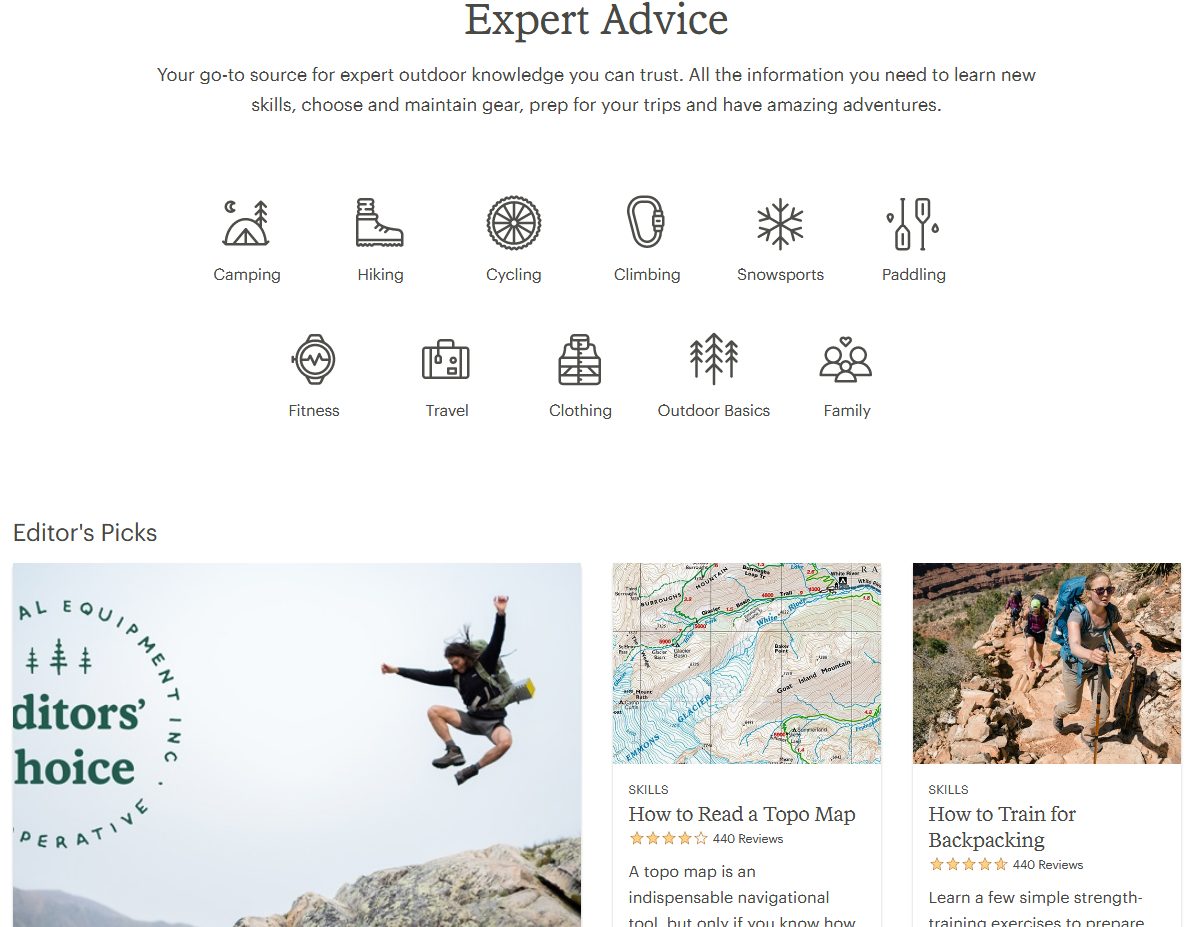 They offer their community expert resources to help them plan their outdoor activities. These resources are tailored for all outdoor enthusiasts, from beginners to seasoned adventurers. These resources cover topics from choosing outdoor gear for yourself, family, and even pets to trusted hiking guides to help you plan your next big adventure.
Actionable Tip: The first step is to plan your content in advance for 6-12 months. Think about all the ways someone would use your product and build content categories to address each. For example, let's say a surfboard brand was planning the type of content they want to produce for their blog. One category that would be useful for their customers could be "Surf Forecasting." Content in this category would be all about reading forecasting charts, conditions that produce the best waves, etc. This content would provide a lot of value to readers, which continues to bring them back to the site leading to more purchases of surfboards.

2. Northern Brewer
Northern Brewer approaches content marketing by creating educational content about brewing. It guides its reader community on brewing beer at home with tutorials designed to help beginners perfect their brewing skills.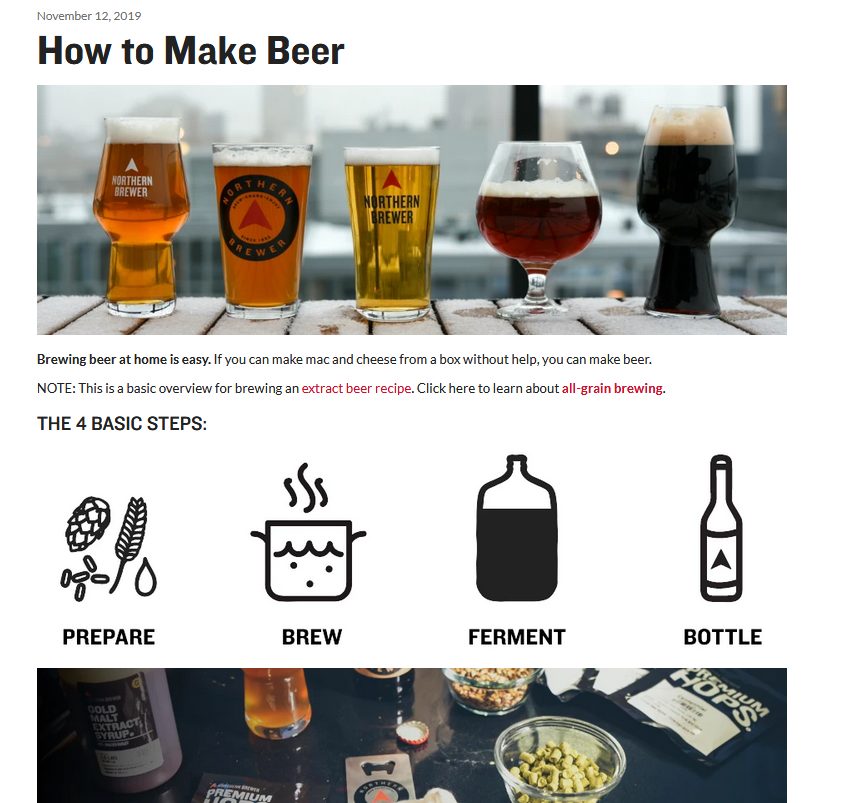 This content is intended to guide customers into purchasing their home-brewing starter kit. Instead of focusing on the benefits of their products, Northern Brewer chooses to educate customers on the ingredients, equipment, and process of making beer at home.
Northern Brewer shares its expertise about brewing to help consumers with a knowledge gap in the niche. The result is a base of customers who leave positive reviews and engagement with the brand.
Actionable Tip: If you sell a product that's a bit more complicated to use, then Northern Brewer is a good example of producing content that gives your customers the how-to's of using it. Consider a mix of written blog posts and video content showing how to use the products. A YouTube channel and a Podcast can be great compliments to building a loyal following while guiding your customers.
3. Betabrand
Betabrand collaborates with customers and aspiring designers around the world to create their products. They use user-generated content to promote their brand and cultivate a community.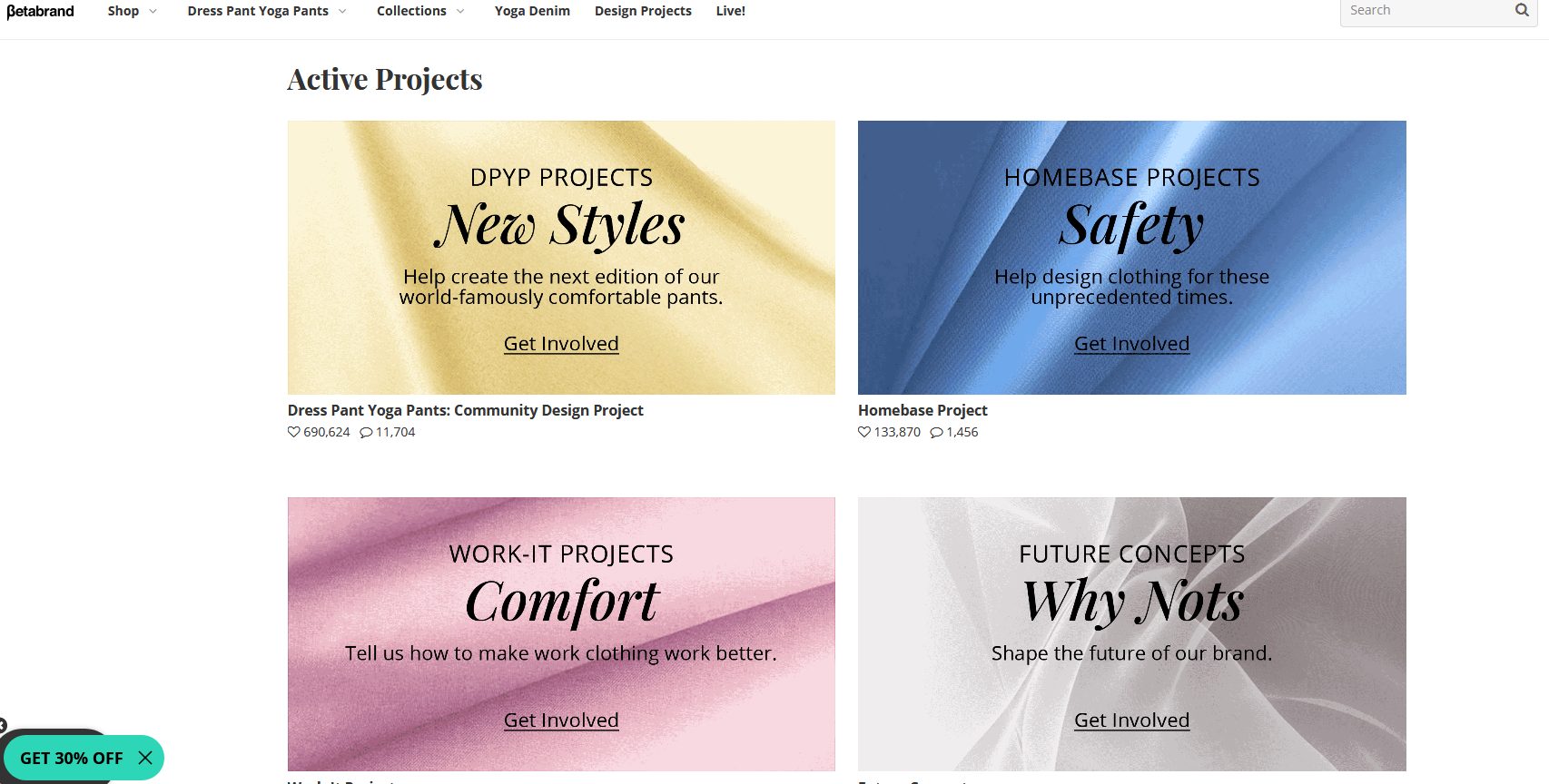 Users can submit their designs for new products, which other community members then vote for. The result of user-generated content is that the brand reaches more users since designers are keen on having their designs selected. New people learn about the company, and if interested, they join a community of loyal and enthusiastic customers and designers. Besides, the company creates products that its customers will enjoy buying.
Actionable Tip: Getting your customers involved in your business is an effective way to create a highly engaged audience. These stories can then be used a social proof across your site and social channels to attract new customers.
4. Beardbrand
Beardbrand is a beard-centric brand that is successfully implementing content marketing to educate and sell its products. They provide value to their community through educational content around growing and maintaining a healthy beard.
Whether through their blog or email funnels, they educate their customers first, letting them know the basics about caring for their beards. This education-as-marketing approach has helped them build a loyal audience of beard-growers and propel the brand as an authority on the best care practices, tools, and products for a healthy beard.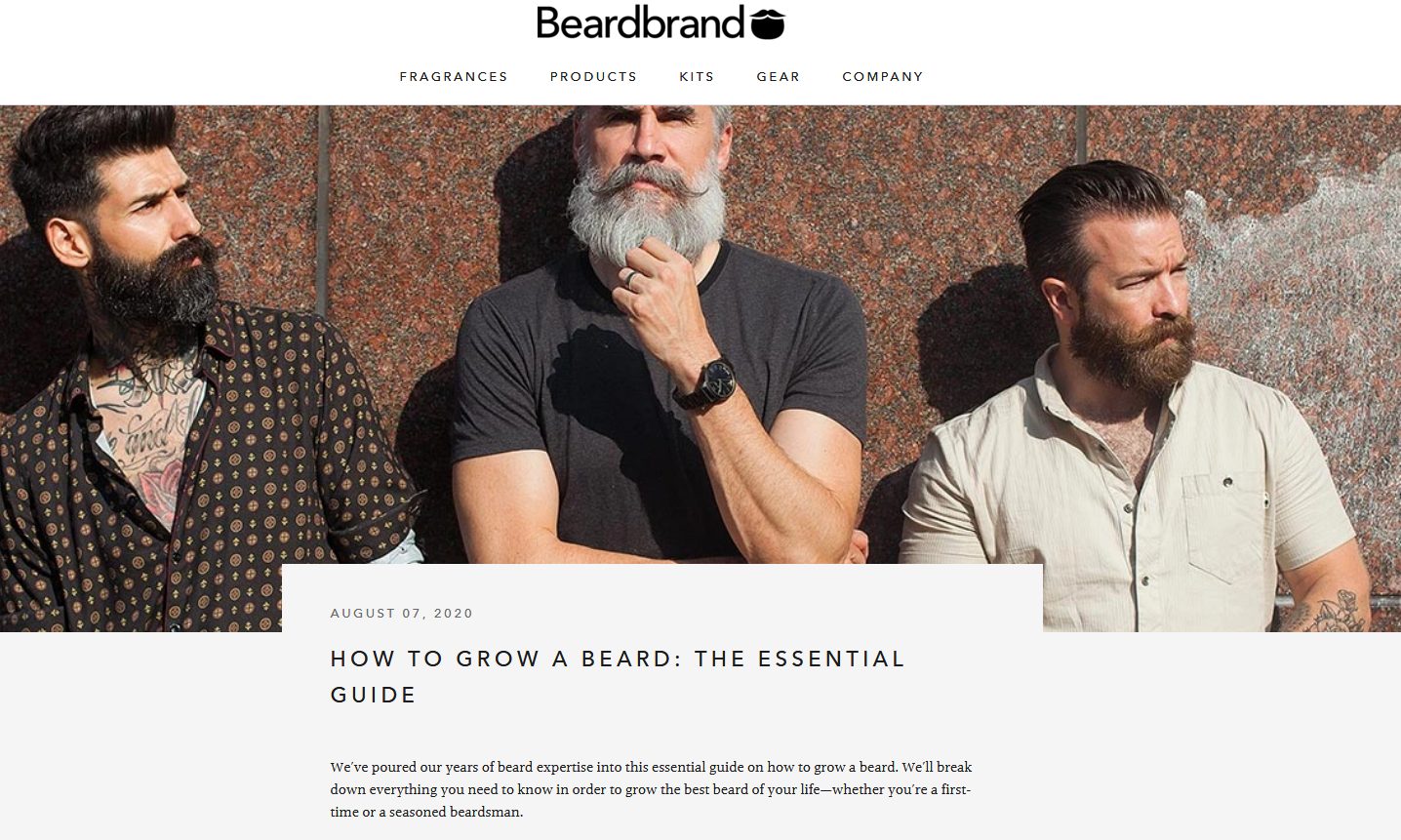 Through content marketing, Beardbrand has grown from living in a world where beards were frowned upon to creating a culture that embraces and accepts beards without the community having to conform to or embrace previously held stereotypes about men who grew beards.
Actionable Tip: Products that are a bit more personal in nature can be an excellent opportunity to build a loyal fan base. Use your content to showcase your customers who are proud to represent your brand, like the example above from Beardbrand. Combine your educational content with examples from customers to show the result.
5. Herschel Supply
If you are selling a premium product, here is a brand to learn from. Herschel Supply sells design-driven products for everyday journeys. They don't market as cheap or easy to buy; instead, they have created a strong brand around a lifestyle. They are all about leisurely travel and sophistication.
Their content focuses on leisurely trips and the experiences customers can derive from their products instead of creating content that solely seeks to sell their products. They integrate their products subtly into their content, which features rich stories about travel, photography, and design. 
While they embrace diverse stories, they keep them aligned to their mission. To present different travel experiences without alienating their core customers interested in their products.
Actionable Tip: Create content that speaks to your niche, then creatively intermingle your product into the content. For example, let's say you are a pool supply brand looking to engage with customers through content. You could create content about new games your family can play in the pool this summer and intertwine different products of yours that can be used as part of those games.
6. OKEx
OKEx is one of the largest online cryptocurrency exchanges in the world. With a product as complex as buying, selling, and trading cryptocurrencies, brands like OKEx have to invest heavily in educational content and tools that help investors analyze trends. They provide market analysis pages for each cryptocurrency to show things like Bitcoin price trends and historical data that help investors make the right investing decisions.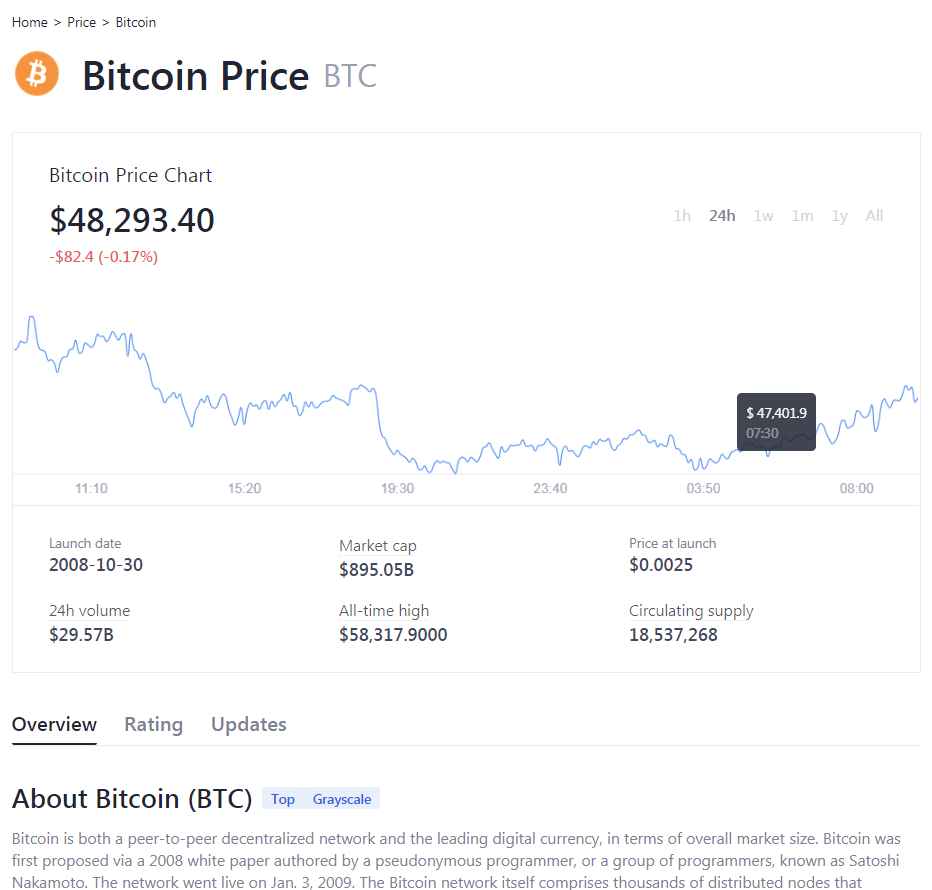 Providing users with all the tools and analysis they need to make informed investment decisions is what has propelled OKEx to significant growth. Other brands can learn from this strategy to create free tools and educational content that helps solve a problem or provide information that helps them make purchasing decisions. This strategy builds trust between customers and your brand, leading to increased conversions and brand loyalty.
Actionable Tip: Providing historical data and analysis is vital for a lot of products and services. Consider creating content or building simple tools that showcase the important data for your customers. These will become resources that customers continue to come back to, leading to increased customer lifetime value.

Key Takeaways
e-Commerce brands can become stale in how they engage with their customers by simply marketing their products' features and functionality. Focus your content on the customer, not your product. Instead of promoting your product, talk about the customers' problems and how they can solve them. Use content types such as product guides or in-depth articles that answer your customers' most pressing questions.
The brands above have shown that they can create content that brings customers deeper into their story and builds lasting relationships. Here are some key takeaways brands can leverage in their content marketing efforts:
User-Generated Content
Engage your customers or community in product creation (user-generated content) to give them a voice of their own during product development. By empowering your customers, you create an incredibly loyal following while simultaneously conducting market research. Using this content to spread through your marketing channels also showcases how your brand listens to what its customers want.
Help Purchase Decisions Through Guides
Comprehensive product guides are necessary to give customers all the essential information they need to make the right purchasing decision. Include things like the differences between different types of the same product, what they're made of and how they can be used. Combining this with live customer service agents via on-site chat and phone gives customers all the support they need to make the best possible purchase.
Test, Measure, and Iterate
As you start to implement content marketing strategies for your e-Commerce brand, you need to take the "fail fast and iterate" approach. This approach focuses on creating smaller test campaigns to launch and test how effective they are quickly, then iterate, relaunch, measure, and repeat to find the most effective strategies.
Before you start this process, plan all the different content marketing tests you want to run. Create definable KPIs to measure and set up the A/B tests to determine the winners of each. Make sure you have a centralized KPI dashboard to bring all the necessary data points into. This gives the entire team a clear picture of performance for each test.
As you iterate through each test, find clear winners and scale the ones that work the best.
Wrap Up
e-Commerce businesses aren't always known for their creative marketing strategies. With so many online retailers focused on ad spend and shopping cart conversion optimization (both also important), there's an opportunity for marketers to use content marketing to attract new customers and build brand loyalty. Ultimately, people buy from people they like and align with their values. Content allows you to make that connection. Give your customers a voice, provide them helpful content, optimize those efforts through testing and iteration, then watch a community of loyal customers flourish.
---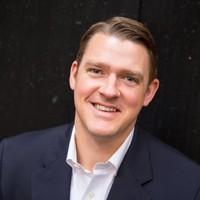 Written by our guest writer Matt Shealy
Matt Shealy is the President of ChamberofCommerce.com. Chamber specializes in helping small businesses grow their business on the web while facilitating the connectivity between businesses and more than 7,000 local Chambers of Commerce worldwide.